MICHELIN® City Grip Tyres
The MICHELIN City Grip is perfect for everyday motorcycle or scooter use. Durable city tyres that are suited to life in the city and that keep on going for longer!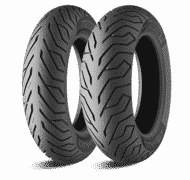 The first scooter tyres with sipes, MICHELIN City Grip are THE go-to tyres chosen by most major scooter manufacturers.
MICHELIN
CITY GRIP WINTER
Safety first, even when it's cold outside. MICHELIN City Grip Winter tyres provide comfort and grip in difficult conditions.
"Whilst these fitments are considered safe for the bikes listed, Regulations covering tyre usage vary depending on the Country of use.  It is always necessary to check that the fitment and combination of tyres is acceptable both for your bike and for the local Regulations."