Tyre Construction and Usage
The first tyres were developed in the 1800's.  In 1889, in Clermont-Ferrand, France, two brothers named Edouard and Andre Michelin patented the very first removable pneumatic tyre, changing the industry forever.
At this time, the tyres were used solely on bicycles, with Charles Terront, endurance cyclist, calling upon the help of the Michelin brothers' rubber tubing to help him on his way to the very first PBP (Paris-Brest-Paris) title — a 750-mile endurance race.
Nowadays, Michelin manufacturers tyres for a wide range of vehicles and transport systems, including aircrafts, cars, and even space shuttles in the past. Operating seven research and development centres, 69 factories, and trading in 170countries worldwide. But why are tyres so important, how are they constructed, and how are they utilised?
Let's take a look.
Why Are Tyres So Important?
Tyres are the only contact point between your vehicle and the road. Providing essential grip when accelerating and braking. Tyres must strike a balance between comfort, durability, fuel efficiency, and grip, and there are many other factors that a tyre designer must consider.
They are far more than just a rubber compound. Tyres support the entire weight of the vehicle, absorb shocks sent from the road surface, and help ensure the vehicle maintains a stable course on the road.
Tyre construction
Before the tyre construction process starts, Michelin employ a vast amount of intensive research and development. We actively study and cross reference motorists' driving habits and tyre usage, making sure our tyres not only have the aforementioned qualities, but are in the right balance for as many users as possible.
A Tyre is seen as being made from a single substance. It is in fact a complex assembly of various components. Tyres are made from 200 different raw materials.
Their rubber is made from four types of materials
Elastomers: Such as rubber
Reinforcing Fillers: Carbon black for rigidity and rupture resistance, Silica for good grip, wear and low rolling resistance.
Additives: such as zinc oxide to activate Vulcanisation of the rubber, and wax buttons that adjust the rigidity of the rubber mix
Plasticizers: including resins that are adhesive, micro-cracking resistant and fatigue resistant.
Tyres also include Steel and Textile products.
Steel: in the Bead area, casing/bracing plies
Textile: in the casing/bracing plies
Tyre Usage
Back in their infancy, tyres were used solely for bicycles and tricycles. Now, they cater to a plethora of vehicles and transport options. Bikes, cars, planes, and trains — the list is endless.
As of 2010, the number of passenger cars in the world reached the one billion mark for the very first time, acting as an example of the sheer number of tyres required.
From motorsport to everyday use, tyres are crucial in ensuring our safety when driving.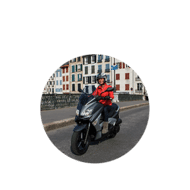 Commuting Tyres
You use your motorcycle/scooter for your job or for travelling to and from your place of work. Your vehicle feels the effects of life in the city: frequent stops at traffic lights, dodging other vehicles, damaged road surfaces… and you ride whatever the weather, all year round. Your tyres need to be hard-wearing and help you travel safely for as long as possible.
Off-Road Tyres
Cross, Enduro, Trial and Rally are all-terrain activities that require tyres with optimal grip and traction. MICHELIN offers a full range of competition tested tyres, suited to your needs and to every kind of terrain (sand, mixed, soft, hard...) you might encounter.
Tracks Tyres
Tried and tested on the racetrack, our range of track tyres are made using advanced technology that has withstood some of the most impressive circuits around. High performance tyres for added grip and total safety.
Adventure - All Terrain Tyres
A beautiful road, beautiful bends, beautiful sunshine, it's time to hit the road! With MICHELIN tyres, there's no need to choose between the ride of your life and a safe day out.
Retro - Vintage Tyres
For fans of vintage scooters and motorcycles, MICHELIN has designed a range of tyres with a decorative touch. Be sure to stand out from the crowd when you ride, with no compromise on stability and grip.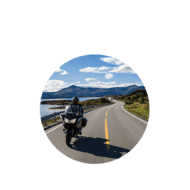 Touring Tyres
Looking for an adventure? Our tyres will follow you on your journey along smooth roads or off the beaten track in search of new experiences. Our aim: to provide you with tyres that last and can go anywhere with the highest level of comfort and total safety.