Our complete range for heavy trail bikes, suited for all road / off-road purposes. Want to head off the beaten track? Our most recent addition to the range, MICHELIN Anakee Wild, is perfect for a thrilling yet safe adventure.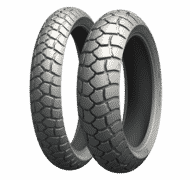 MICHELIN
ANAKEE ADVENTURE
Free your desire with the new MICHELIN Anakee Adventure tyre for your Trail motorcycle
Head off the beaten track! MICHELIN Anakee Wild tyres are long-lasting, durable and provide comfort for an exceptional riding experience.
Handling, durability and grip on dry and wet surfaces: 
rediscover the joy of riding your trail bike!
"Whilst these fitments are considered safe for the bikes listed, Regulations covering tyre usage vary depending on the Country of use.  It is always necessary to check that the fitment and combination of tyres is acceptable both for your bike and for the local Regulations."